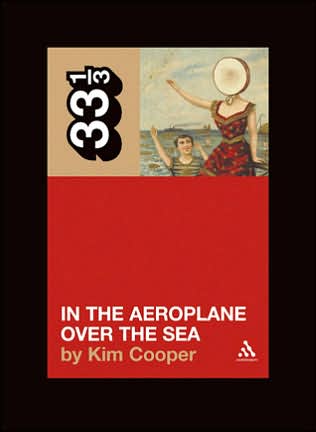 Here's what I had to say about Kim's book back in December 2005:
----
If you're like me, you love Neutral Milk Hotel's In The Aeroplane Over The Sea with a passion that few other albums achieve, and you have been looking forward to the 33 1/3 book for as long as you've known about it. Well, ok, there's probably only 1000 or so people in the country who fall into that category, but MAN, what a great album and what a great book about it.

Kim Cooper (the editrix of Lost In The Grooves, Bubblegum Music Is The Naked Truth, and Scram Magazine) gets to the heart of the story about this album. As NMH fans know, Jeff Mangum produced only one prior NMH album, On Avery Island (released in 1996), which was pretty much created without a band, then brought in a group that became the NMH that we all knew and loved. NMH put out the amazing In The Aeroplane Over The Sea in 1998, went on a short tour to support the album, then more or less disappeared. I remember when they came to Chapel Hill on that tour, but I didn't go see them because I thought I'd have plenty of options to see them again. I was wrong.

Cooper spent some time with Jeff Mangum while researching the book, and it shows, despite his unwillingness to be directly quoted, in her insight into his elusive genius. She also spoke with the other major members and friends of the band, who provided her with the in-stories that show exactly how this band bottled the lightning in 1998. Cooper's depth of research and sympathy for her subject are wonderful to read.
----
I probably should have mentioned that I owe Kim Cooper a huge debt of gratitude for including my contributions in the music encyclopedia Lost In The Grooves, which she and David Smay edited back in 2004. Despite my omission (which I mentioned elsewhere), I thought In The Aeroplane was a tremendous book about an underappreciated gem. The album has been growing in notoriety since, partially - I hope - due to Kim's book.
At the end of the review, I said:
----
I pitched Richard and Linda Thompson's Shoot Out The Lights to 33 1/3, and I can say with confidence that this is exactly the sort of book I'd attempt to write about that album if the editors give me the go-ahead. Some of the other 33 1/3 books have been too much about the ego of the author; Cooper disappears into her narrative, and her book is infinitely better for it.
----
While it was true that I pitched Shoot Out The Lights to Continuum in the oral-historical style with a desire to emulate Kim's book, I wrote a very different book, part novella and part album review. Some people will certainly be disappointed. Also, I've grown to appreciate the more personal 33 1/3 books since, and regret the comment about the other author's egos. That was unfair and untrue.
Style of book: journalistic, enthusiastic. Generally refuses lyrical analysis. This kind of journalistic approach is especially great for an album like In The Aeroplane Under The Sea, which is somewhat obscure by design.